Earn as you spend
Get 0.5% cashback on all purchases over £1 worldwide, whether you're buying tacky souvenirs for the family or going on a spree for yourself.
Spend abroad without worry
With no additional fees on transactions abroad and nothing added on top of the MasterCard exchange rate, our card is a great way to spend while away.
Borrowing that suits you
You can manage your spending flexibly with the Tandem credit card. Spread the cost of your spending at an interest rate of 18.9% APR (variable, representative).
The lowdown
Interest rates

18.9% per year (variable, representative) for purchases

18.9% per year (variable, representative) for cash withdrawals

Your final interest rate may be higher based on your individual circumstances

Cashback

Earn 0.5% on every purchase above £1 at home and abroad

No fees abroad

There are no fees for making purchases abroad. Interest will still be charged as normal.

Cash withdrawals

You'll be charged interest from the day you withdraw cash in the UK and abroad

In the UK we'll also charge a fee of 2.5%, with a minimum charge of £2.50. There are no fees for withdrawing cash abroad.

Balance transfers

This card doesn't offer balance transfers

Fees

There is a £12 fee if you make a late payment, or your payment fails
Representative example
Most people will get:
Annual purchase rate (variable)
18.9%
Representative APR (variable)
18.9% APR
Based on an assumed credit limit of
£1,200
You may be offered a different credit limit or APR to that shown here as it depends on your individual circumstances. Subject to eligibility and credit assessment.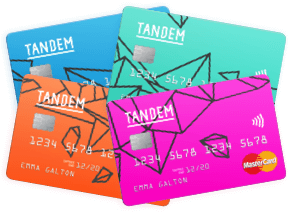 Want to get it first?
We're limiting access to the Tandem credit card for now. In order to register your interest and apply, you must:
be at least 18 years old
currently have an address, and three years address history in England, Scotland or Wales
have a minimum income before tax of £13,000 per year
If you choose to apply, at that point we'll check your eligibility. You're more likely to be accepted if you have a good credit history.